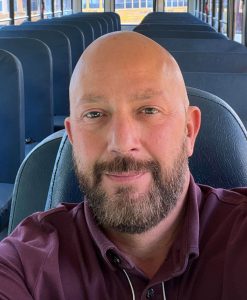 Jerome Keenan has been appointed as the next Director of Transportation for the Saratoga Springs City School District. Mr. Keenan will replace Jeffrey Wainwright who is retiring from the district at the end of the school year. 
"I would like to thank Jeff Wainwright for the outstanding leadership he has provided to our Transportation Department over the past twenty years.  We wish Jeff a happy and healthy retirement," said Superintendent Dr. Michael Patton.  "We are excited to welcome Jerry Keenan to Saratoga Springs as our next Director of Transportation.  Jerry brings valuable experience as the Assistant Transportation Supervisor in the Guilderland Central School District and is a leader in his professional association.  We look forward to welcoming Jerry to our district leadership team." 
Mr. Keenan has been the Assistant Transportation Supervisor at the Guilderland Central School District for the past 3 years. He has also served as the Head Bus Driver for Capital Region BOCES/Niskayuna School District and as a School Bus Driver for East Greenbush Central School District. 
Mr. Keenan is certified as a School Bus Driver Instructor and as an Article 19A Certified Examiner Article through the Pupil Transportation Safety Institute. He currently serves on the Board of Directors for the New York State Association for Pupil Transportation (NYAPT) and as the President of the Capital Area Chapter of NYAPT.