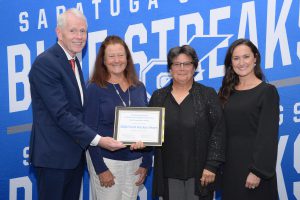 The Saratoga Springs City School District honored six individuals for their extraordinary contributions to athletics during the 2023 Blue Streak Athletic Hall of Fame Ceremony on October 20.
The program was established to recognize and celebrate the accomplishments of outstanding athletes, coaches, administrators, and supporters. The 2023 inductees are Kerri Burgess (Clark), Doranne Mullan (Kelly), Jay Mulligan, Jay Navin, Joey Santamoor, and Mickey Walczak.    In addition, the 2004 field hockey team was recognized.  To read more about the inductees, please visit the Blue Streak Hall of Fame page.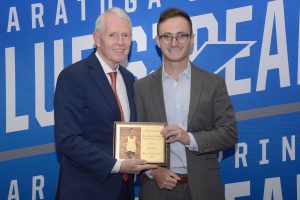 A committee composed of current and former coaches, high school administrators, community members, and current and retired athletic directors reviewed the nominations and selected the honorees.  A trophy case in the lobby of the blue gym will hold plaques in honor of the Hall of Fame members.